Cesare Supermercato is an Italian supermarket chain company in Euro Truck Simulator 2. Since the rebuild of Milano in the 1.30 update, the city also features a Cesare supermarket.
Locations
[
]
Milano
Palermo
Pescara
Sassari
Cargo types
[
]
The company accepts and provides following cargoes:
Accepted
Provided

Almond
Apples
Beans
Beef
Beverages
Canned Beans
Carrots
Cauliflower
Cheese
Clothes
Containerized Trees
Dryers
Dry Milk
Electronics
Flour
Furniture
Goat Cheese
Grapes
Grass Rolls 
Honey
Ice Cream
Ketchup
Maple Syrup
Mason Jars
Milk
Nuts
Oranges

Paper
Peas
Plant Substrate
Plums
Peanut Butter
Potatoes
Rice
Sugar
Tableware
Tomatoes
Toys
Tyres
Vinegar
Watermelons
Yogurt
Young Seedlings

With Italia DLC:

Canned Sardines
Frozen Octopi
Fresh Herbs
Gnocchi
Mozzarela
Olive Oil
Pasta
Pesto
Prosciutto

Empty Palettes
Used Packagings
Used Plastics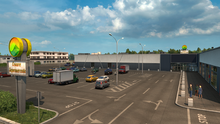 Trivia
[
]
When you enter the depot, you can see Iber Coop near the parking area. It is an homage of the real Italian supermarket Ipercoop.